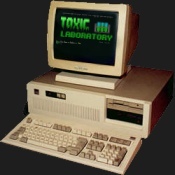 Welcome to Toxic Laboratory BBS
Toxic Laboratory BBS is a bulletin board system (BBS) launched in June 2013 in Birmingham, UK.
The BBS focuses on online gaming (doors) such as Legend of the Red Dragon (LORD), Trade Wars, Planets: TEOS and thousands and thousands of early 1990s vintage software; the sort you would have found on BBSes worldwide at the time.
It's not like we don't want to move with the times - the system has a live news feed from BBC News - but as a BBS enthusiast, I believe the Internet can be used to enhance older technology like a BBS rather than replace it.
So why not come on over and explore the world's newest BBS. The BBS is accepting connections via Telnet, SSH and RLogin at toxicbbs.com 24 hours a day.

Connect to the BBS using address: toxicbbs.com
Problems? Try just the IP address: 192.71.245.43
Need a connection client?
Download one from us today to ensure you see Toxic Laboratory BBS in all its glory!